I love travelling and visiting different countries. Being born in Singapore, I am always fascinated when I travel back to visit family and friends at how much the country has changed and evolved in just a short period of time.
The picture below depicts how far Singapore has come as a small nation over the past 50 years, defying obstacles and constraints in order to become one of the most respected and wealthiest Asian countries in the world.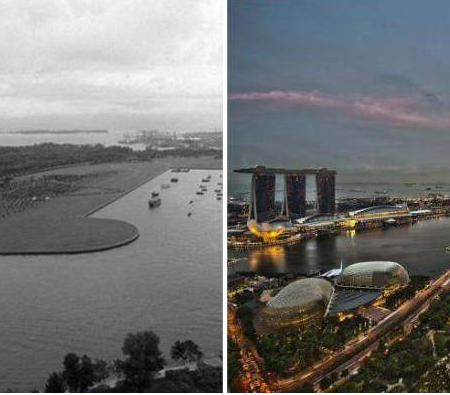 As human beings we have a bias for progress – take technology for example. It's not uncommon for new breakthroughs to be developed over many years without being accessible to the general public until many years later either due to cost, complexity, or simply feasibility.
The OLED (Organic Light Emitting Diodes) display is a really good example of technology that has fought for many years to surface to the top over other display technologies such as PLASMA, LED, CRT etc. In 1987, the world's first OLED paper was released by Kodak. I'm sure at the time when the first OLED paper was invented, I imagine that the excitement around future possibilities of this technology was buzzing around Kodak. However what is interesting is if you look at the journey of OLED over the next 30 years, its intriguing to see a few things happen.
Kodak are no longer the leaders of the technology
As OLED became more and more available mainstream, it became simpler and more accessible
It took 20 odd years before OLED was introduced to televisions
So what does this all have to do with Agile and its application to New Zealand businesses?
Having devoted the last 2 years to building Radically, a lot of my time has been spent on getting to know the challenges of New Zealand businesses, both large and small. The common pattern across most organisations is change. While the reasons and motivators might be different from organisation to organisation, most do fit in one of the categories below:
Margin at risk due to declining revenues, increased market competition and pressure on costs
A sudden boom in the organisation, requiring significant growth in order to meet demand in orders of magnitude of +200% growth
Industry profitability is declining, requiring a shift in strategy to innovate and diversify for future survival
In speaking to organisations, what I've found is that most know they need a step change, and that in their current form, they would not be successful. More and more organisations are realising that improving their ways of working in the form of culture, processes and practices is a way to overcome their challenge.
Organisations that journey down the path to shift in the way they work often look for a partner to diagnose and help them start. Just like when you visit your local GP for medical expertise, organisations that face these challenges look to consulting companies and individual experts to prescribe the right medication in order to get healthier. Unfortunately instead of becoming healthier, many of these organisations end up becoming more sick than when they started. Why is this?
From talking to businesses and their leaders, I've found that the help and advice they were given was focused on an idealism and a pursuit of an outcome which often has not been translated to suit the needs of their organisation. Even worse, when asked if prescriptions such as Agile can be tailored, they were labelled anti-agile or not-agile, leading to an assumed implication that having achieved agility means you have succeeded.
This type of approach often leads to organisation seeking to be Agile as an outcome, losing focus on their original symptom, which is to increase business performance, improve delivery, or build foundations to scale.
Unlike the OLED example, where technology was developed then modernised and simplified, many in the industry have failed to simplify and make Agile digestible for businesses to adopt. The impact of this is many organisations have become resistant because they are forced to make a binary decision – "are you Agile or not?". This often ends up taking organisations down the wrong path in pursuit of an outcome to comply to an "Agile way of working", rather than simply working better so that the business thrives. Whilst I understand in application things are more complex, my challenge is that as experts of change, it is our duty to wear our expertise lightly and make it easy for organisations to embrace better ways of working, rather than make the solution the only means.
I started off this thought piece with the idea of what might be beyond Agile. My challenge is as we look beyond, that we don't think deeper and more complex as the solution. In my experience most are still at the stage where they benefit from very simple principles such as
Embracing try and learn
Delivering in iterations
Structuring for intentful collaboration
Reflect and learn often
Many of us understand that these are inherently linked to Agile practices, however they do not have to be implemented by the book. Instead, at Radically we believe organisational benefits come from making these principles so simple and practical, that they can be applied across the entire organisation. This is what better ways of working means, as opposed to achieving some kind of agility index or being the very best follower of a practice like scrum, but failing to meet your business goals.
At Radically we strive every day to draw on our diverse teams expertise, such as:
Delivery Experts who have managed large complex waterfall programmes
Agile Coaches who have helped embed new mindset and practices in organisations
Business leaders who have set a vision and understand the realities of running a P&L
People & Culture practitioners who deeply understand people, psychology and the practices required to unlock high performance

Together we are a diverse group of people who believe in partnering with organisations large and small that who want to improve their ways of working. To do this we:
Make the complex simple
Draw on a diverse background of skills and experience
Focus on delivering clear business outcomes
If you've been considering how you can step change your business in 2020 and want a partner that has deep expertise with the ability to simplify the complex, feel free to get in touch with myself or one of the team.