The Great Resignation – Curse or Opportunity?
Is The Great Resignation a curse or an opportunity? For progressive, adaptive, and human-centred organisations, it could be the latter.
With record levels of people changing jobs in most markets, The Great Resignation is probably one of the largest movements of talent we have seen in living memory. There is little doubt it has arrived in New Zealand and will significantly impact business. No one knows how it is going to play out but what we do know is that
more than 50% of employees have high intentions to resign
two-thirds of employees believe they have solid job opportunities elsewhere.
90% of people surveyed in the Meaning and Purpose at Work Survey said they would sacrifice up to 23 percent of their future lifetime earnings for work that is more meaningful.
Clearly, adaptive organisations must plan to address the risk of losing critical talent.
On 5th April we brought the Auckland business community together to discuss whether The Great Resignation is a curse or opportunity, and share perspectives and experiences, along with expert insights from Helen Meade and Shaun Philp.
A full recording of the session is below.
As usual, Sujith Ramachandra produced a beautiful visual canvas. For a high-resolution version, click on the picture below.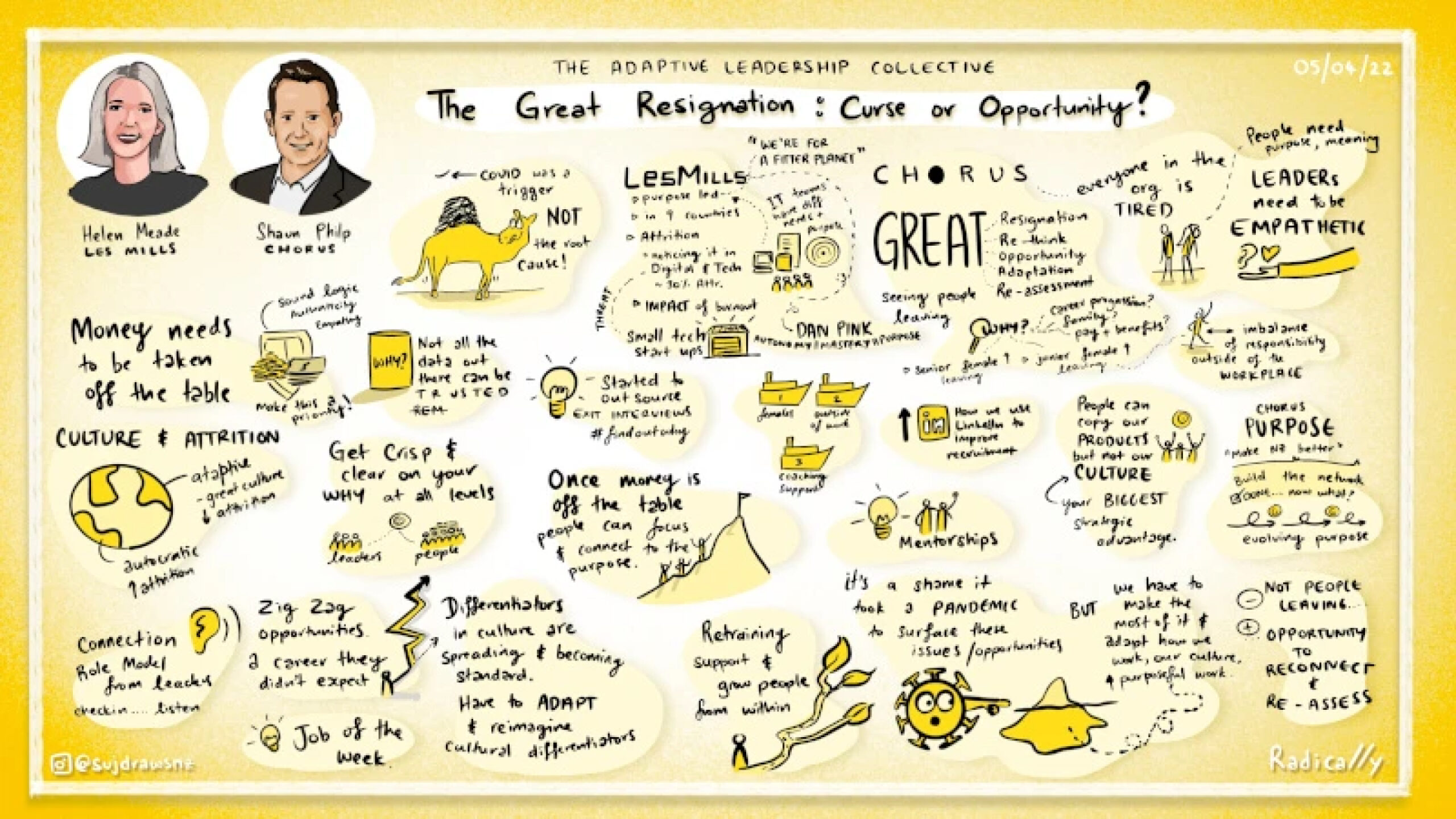 Purpose is King
A topic we discussed in the breakout rooms was the work of human motivation guru Neel Doshi, author of the NY Times bestselling book Primed to Perform.  Neel shows how there are three strongly positive motivators (Purpose, Play and Potential) that drive motivation and engagement, and three strongly negative ones that crush it (Emotional Pressure, Financial Pressure and Inertia).
The webinar we ran with Neel (below) shows that The Great Resignation has made his work even more relevant than ever.