Adaptive Ways of Working from the COVID-19 Crisis - Agile Leadership Collective
Crisis is the mother of invention, or as Plato's Republic said "our need will be the real creator".
During the COVID crisis, most organisations found themselves scrambling. We had to throw the rule book out the window and figure out how to best work together, iterating day by day, week by week. We worked adaptively, across silos, to achieve the most important things for our customers.
Adaptibility & Leadership  – lessons learned
While we worked remotely and collaborated digitally, many of us had to manage multiple competing priorities across our home and work lives. Not only did we get out work done, but in many cases we were more innovative and creative, resulting in better outcomes.
Many firms are now wondering how they can leverage this experience, now that the worst of COVID seems to be over.
Our September Agile Leadership Collective meeting brought the community together to share what we have collectively learned and how we might apply this to improve our organisations.
In this blog post, we've captured our own lessons:
6 Critical Lessons in Organisational Agility from the COVID-19 crisis
Video Recording from the event
Video recording from the event. Unfortunately, video recording didn't captured beginning, but started just after introduction of the first panelist. Fortunately, the main content and key insights are captured.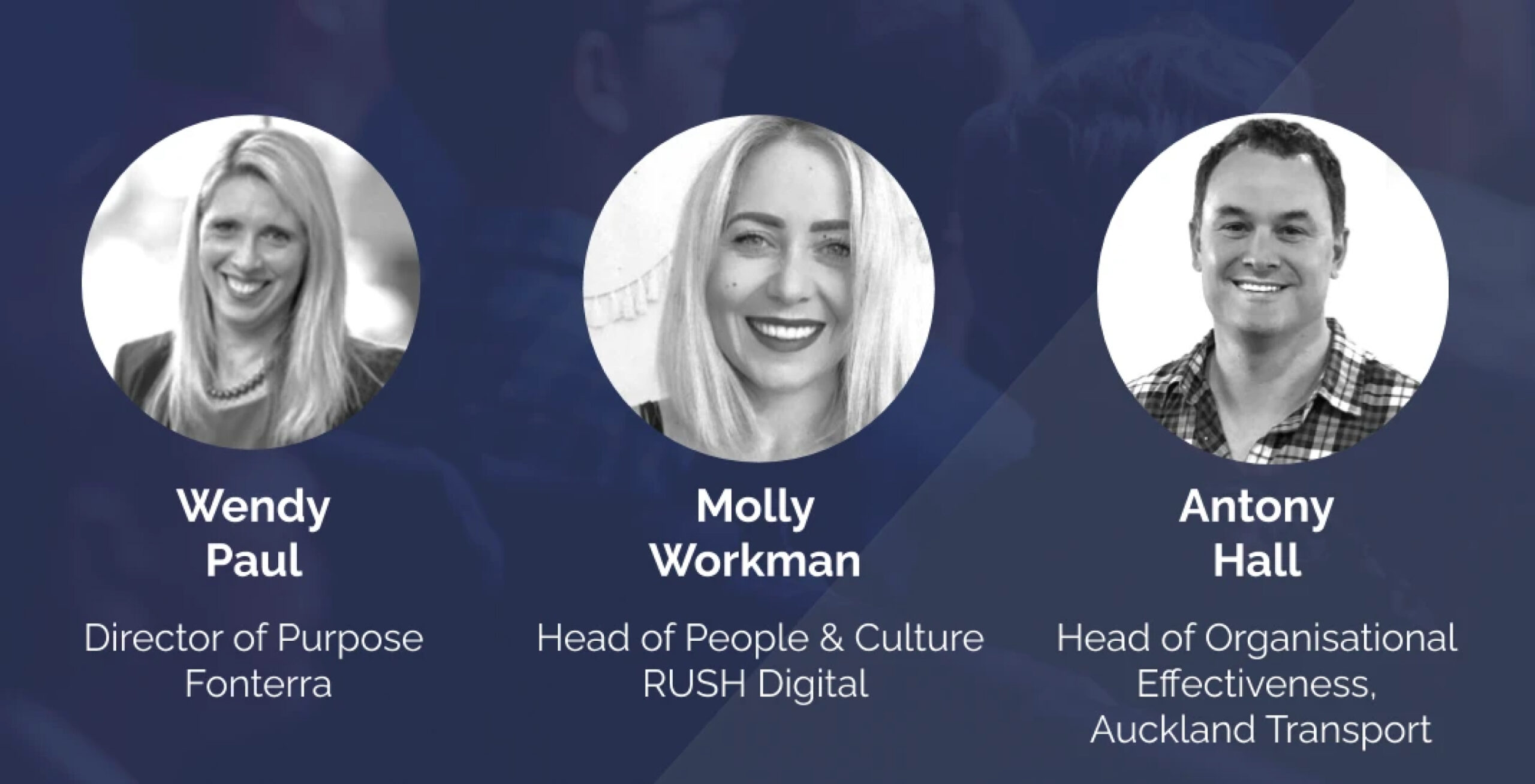 Wendy is currently the Director of Purpose at Fonterra. Her personal purpose is to build organisational capabilities in anticipating and responding to challenges presented by a constantly changing and unpredictable world environment. She is an executive with a passion for tackling global organisational challenges and delivering improved performance outcomes through cultural change.
Wendy's focus is on delivering pragmatic, effective and efficient solutions aligned to the desired long term results and outcomes. She believes that shifting leadership mindsets and behaviours are critical to transforming functions including governance, customer services, sales operations, supply chain and crisis/risk management.
Head of People and Culture at RUSH digital. Molly is driven by the potential that a collective of people within an organisation has on our world, and is excited by how this potential can elevate humanity. Molly has a knack of bringing fresh and challenging perspectives to traditional organisational ways of working and mindsets. She has a wealth of knowledge and passion across agile, people experience and embracing the ever-changing future of work. Molly has worked across government, large corporate, high-growth tech startups and most things in between. She definitely understands that one size doesn't fit all.
By work-day Molly is the Head of People and Culture at RUSH Digital, working towards the mission of designing technology to better serve humankind.
Antony is currently the Head Of Organisational Effectiveness at Auckland Transport. Antony firmly believes that great employee experiences lead to great customer experiences which in turn lead to real business outcomes.
Antony has had extensive Human Resources, Talent, Employee Experience, Recruitment, Analytics and HRIS experience in both private and public sector organisations. He's passionate about the future of work, and how organisations can set themselves up for the future. He combines his HR knowledge and system implementation background with Design Thinking mindset to bring new strategies of change into the organisation.